Staff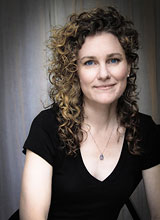 Jenny Grisham
Jenny Grisham began her career in Austin where she received her barber license in 1991. She and her husband Vaughn opened Americana after relocating to Alpine in 1996. The Grisham family, which now includes son Henry, dog Sam and kitty Rex, enjoy life in the stunningly beautiful Big Bend Region. An experienced editorial stylist with several album cover credits, Jenny has also worked in the film industry. She is a highly trained stylist specializing in modern coloring and cutting with a special fondness for men's hair. Jenny's current focus is supporting her amazing staff with ongoing advanced training and recruiting new team members for Americana. Her passion is helping beauty and barber school students grow within the industry. Jenny travels extensively sharing her knowledge and experience with an inspirational program that empowers individuals to create bright, prosperous and fulfilling careers for themselves.
E-mail: jenny at salonamericana dot com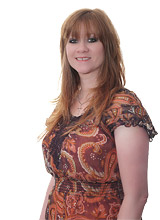 Shari Hill
One of the original Americana girls, Shari Hill recently returned from a nine-year tenure as lead educator at a Redken Academy in Colorado. Shari is a phenomenal educator whose patience and tenacity have helped prepare so many grateful students for successful careers in the beauty industry.
Americana is thrilled that Shari chose to return home to be with her daughter, Kelli and brand new baby grandson, Townes.
With over 25 years experience, Shari is a master at every domain and enjoys being able to pamper her guests from head to toe with facials, waxing, pedicures, manicures and all hair services. "I never doubted that I would one day be back at Americana, where I belong. There truly is no place like home."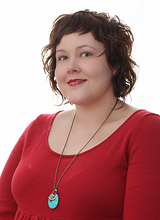 Tehra Vaughn
Highly trained by top stylists from around the country, Tehra provides outstanding results from her gorgeous custom colors to the stunning modern cuts her clients love. But Tehra isn't just well-trained and talented, her warm, calm demeanor and genuine concern for others has the effect of making everyone she works on feel as good as they look.
"I really strive to bring out the beauty and confidence that every person has within them. My goal is for them to walk out of the salon feeling satisfied and have no reservations about returning." With her role as Technical Director, Tehra's creativity and thoughtfulness help ensure a consistent level of care and attention with every service performed at Americana.
In addition to her professional knowledge, Tehra is a connoisseur of modern music. "Tehra is the reason you hear such fun current music when you visit Americana," explains Jenny Grisham, owner. "Her style and taste perfectly compliment the atmosphere I envisioned for the salon." Tehra also loves art, good food and hanging out with the wonderfully diverse and inspirational residents of Alpine, Texas.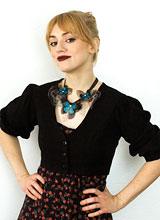 Dorothy Moore
Raised in Midland by a family of artists, Dorothy has always been naturally inclined toward the aesthetics of life. After attaining her BFA at UTPB, her search for beauty and diversity landed her in Alpine at Americana where she strives to endow every customer with the self-confidence to achieve their own goals.
Much of Dorothy's extensive experience is with men's grooming which she particularly enjoys. Designing haircuts and customizing them with color also fulfill her creative needs on a daily basis. In addition to her hairdressing skills, Dorothy is a passionate make up artist and is thrilled when called to work on films shot in the Big Bend region. "I love the challenge of creating just the right look, working consistently and quickly as well as the opportunity to meet talented people from all over." She says of her experience working on films.
Dorothy's creativity extends beyond hair with her online clothing and accessories store, Sumomosuki.com and she is always studying new artistic methods which serve to enrich her work in the beauty industry.
Desserae Vega
With efficiency and a smile, Desserae will take care of your appointments and special needs. She is Americana's client care specialist and so much more! Spontaneous and fun loving, this native Alpinian loves pin-up style, sports and live music. "I will always try anything first. From a new hair color to a tattoo or piercing I'm there!" explains Desserae. But her biggest inspiration and joy come from her family. Desserae is a big sister to two brothers, a loving wife to a wonderful man and proud mother of a growing son. Her brother and her hero, a US Marine is responsible for the philosophy that she lives by, "Enjoy life today because yesterday has gone and tomorrow may never come."